Recently I have been enthralled by what seems to be a growing middle-class online phenomenon: Thrifting/Fashion Blogs.
Now, as my own blog as been eluded by my presence these last few weeks, I feel compelled to introduce you to a few women who are a little bit more purposed in their little corners of cyberspace. Unfortunately for my blog, time which could be spent developing the BK Lounge into a vibrant and exciting place has been spent nursing my growing addiction to the blogs of thrifting middle class fashionistas around the globe. I've tuned in to faithfully-blogging and under-recognized fashion icons (sort of) in places such as the USA and Austrailia, and I have to admit, I wish my style was as developed as some of these cool cats. Then again, I wish I had the motivation of some of them as well.
So I feel as though it is time for me to introduce some of my favourites to you, my readers - not that they need the help, but I feel as though their life + style + thrift type adventures will offer you the new horizon of websurfing that you've so adamently been searching for.
First up is Julie from
We So Thrifty
.
WeSoThrifty.
Julie is a graphic designer hailing from Hamilton, Ontario, Canada. Her blog is a mesh of thrifting and style comically explained through the day-to-day inspirations of her 90s pop-culture and art infused world. Julie finds dresses with an 80s infused UNO game brand name, and proceeds to give a history of the UNO label. She crosses Dawsons Creek and Saved by the Bell references with Betsy Johnson dresses and room renovations. She has even been so generous as to give a brief educational post on CMYK to RGB colour formatting (and how that inspired her latest thrifted outfit). She has even given a post on the early 90s celebrity three word names and their possible 2012 comeback. It might be worth noting that I eagerly await Julie's posts not just for her photos, but also for her witty way around our media-infused world.
Sophie is the vintage loving host of
Her Library Adventures
.
HerLibraryAdventures.
Her sweet inspirations have combined to make a lovely visiting place for regulars and strangers alike. She highlights many of her interesting and eccentric Flea Market Finds in a weekly exhibit, and loves showing and pinning the things that make her smile. Sophie's vintage inspired life is filled with books and shoes, tea and beauty. Her style reflects her kind and gentle but adventurous personality, and her ability to pull off any shape or style makes her blog a treasured place. She's also from Austrailia, which is pretty cool.
Ally's place,
The Vintage Valley
, is both her boutique and blog.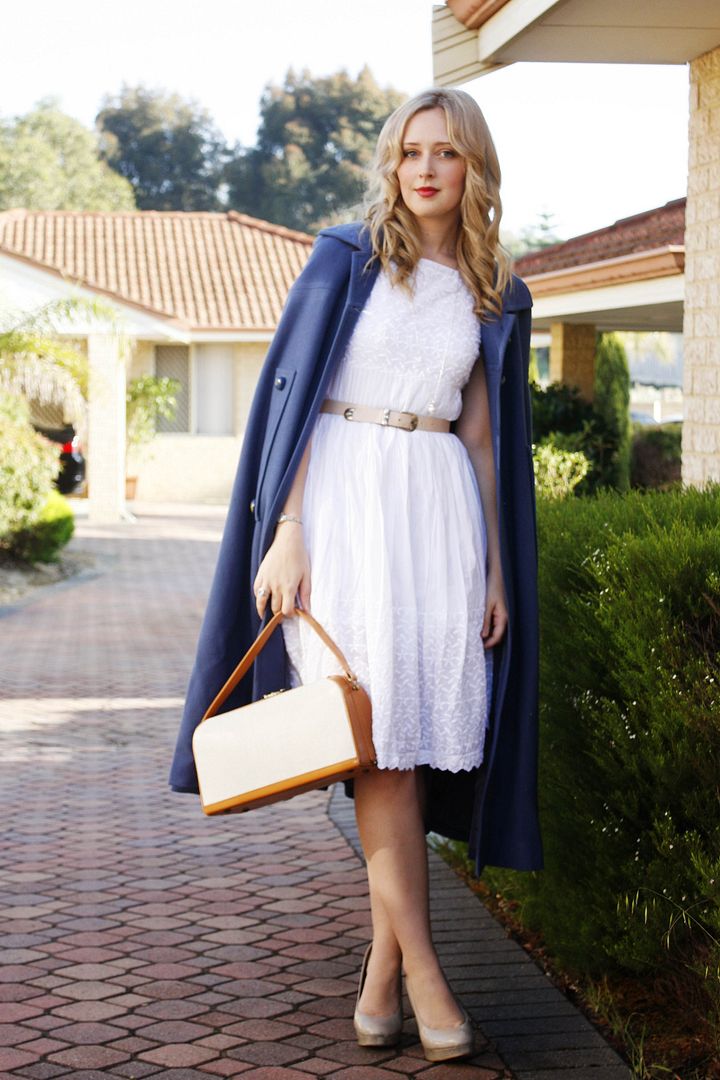 TheVintageValley
Filled with everything vintage, Ally models her universe in the 50s, 60s, and 70s, where she reinvents style and gives fresh life to secondhand clothes. She collects and resells gently used vintage clothing, in the hopes to give it a new home, and possibly a second chance. While her fashion sense is exquisite and her photographer is very talented, Ally presents 21st Century Australian suburban life with a vintage flare. Her outfits never fail to impress.
Verokina is the writer of
Girl and Closet
.
GirlandCloset
Incidently, I came across Girl and Closet (sidenote, closet is a strange looking word), through Ally and the Vintage Valley...and I came across Ally through Sophie, and Sophie through Julie (notice the trend?). Veronika's style is a little reminiscient of my own. However, while I may not have the patience to actually follow through on my style, she is the epitome of what I wish I could wear... even while being at camp. Veronika resides in a coastal town, and runs a handmade jewelry store called Oh Poppy! Someday, when I have a job, money, and followthrough, I would like to model my style after Veronika...minus the beanie.
Lastly, I would like to introduce you to Emily, at
Life, etc.
Life, etc.
Emily's blog is a joy to read, and its name suits it perfectly. Her blog encompasses all the special moments in her life, her fashion, and her family. She brings together a combination of her children, her style, and her home in an informative and whimsical place. And while her 'What I Wore' segments may not be entirely vintage, she does post tutorials and tips for hairstyles and quick how-to's for make-up. She has even been known to sneak a few personal creative projects and cooking into the mix.
These stylish women have been fun to follow. Their adventures and blogs make me wish I had the know-how and photography skills (new camera?) to bring my own blog out of college and into adulthood. It may be time for me to redesign, to reinvent, and to post about things that matter. While my fashion sense may not be documentable, and my recipe book wanting, the next chapter of The BK Lounge may have some role-models. Should I ever desire to fashion-ize, repost Pintrest photography, or cook something delicious, I will be sure to have my endeavours make a cameo.
...Beannies and CMYK tutorials omitted. Seriously.